Split-Core Bi-Polar DC Transducer Sensor
Overview
Split-Core Bi-Polar DC Transducer sensor that measures up to 200 Amps of DC current in both flow directions.
Requires analog port selection during U30 system configuration and use of a S-FS-CVIA when using the H22-001 data logger. When using a U12 data logger, this sensor requires a 4-20mA input cable (CABLE-4-20mA) and external power provided by an AC adapter (AC-SENS-1).
Note: For measurements larger than 120A the device must be powered by a minimum of 15V to maintain expected accuracy.
Highlighted Features
Measures current flow in both directions which is especially beneficial for Solar PV applications.
Adjustable span range
Small size, split-core for ease of installation
In what environment does this sensor operate?
This sensor operates in an indoor environment.
What measurements does this sensor support?
The T-VER-971BP-200 sensor supports the following measurement: DC Current
DC Amperage (bi-polar)
Measurement range: +/- 2 to +/- 200 (via span adjust)
Accuracy (below 100A span): +/- .5 A
Accuracy (above 100A span): +/- .5% full scale
Sensor supply:  12 - 24 DC (15 VDC min. for cuurents > 120 A), 35 mA no-load to 110 mA at 200 A current
Isolation:  600 VAC rms
Operating temperature range:  -30 to 60C (-22 to 140F)
Humidity range:  10 - 90% non-condensing
Response time:  2 sec.
Output:  (bi-polar) 4 - 20mA
Dimensions: 3.1x2.8x1.4 in. (79x70x36 mm)
Weight:  5.25 oz.
Sensor opening:  1.1x.9 in. (28x23 mm)
LED indications:  single green blink=Norm, double green=Over Span, red+green=Over Limit, solid red=overload
CE, UL
Related Products
Data Loggers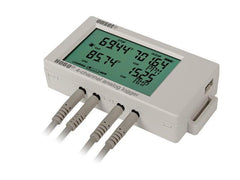 Quick View
{"id":8504748304,"title":"HOBO 4-Channel Analog Data Logger","handle":"hobo-4-channel-analog-data-logger","description":"\u003ch5\u003eImportant Info\u003c\/h5\u003e\n\u003ch3\u003eOverview\u003c\/h3\u003e\n\u003cp\u003eThe HOBO UX120-006M Analog Data Logger is a high-performance, LCD display data logger for building performance monitoring applications.\u003c\/p\u003e\n\u003cp\u003eAs Onsets highest-accuracy data logger, it provides twice the accuracy of previous models, a deployment-friendly LCD, and flexible support up to four external sensors for measuring temperature, current, CO2, voltage, and more.\u003c\/p\u003e\n\u003cp\u003eThe data logger is ideal for energy audits, building commissioning studies, equipment scheduling, and more.\u003c\/p\u003e\n\u003ch3\u003eHighlighted Features\u003c\/h3\u003e\n\u003cul\u003e\n\u003cli\u003eTwice the accuracy over previous models with 16-bit resolution\u003c\/li\u003e\n\u003cli\u003eFlexible support for a wide range of external sensors\u003c\/li\u003e\n\u003cli\u003eLCD confirms logger operation and displays near real-time measurement data\u003c\/li\u003e\n\u003cli\u003eProvides minimum, maximum, average and standard deviation logging options\u003c\/li\u003e\n\u003cli\u003eOn-screen alarms notify you when a sensor reading exceeds set thresholds\u003c\/li\u003e\n\u003cli\u003eStores 1.9 million measurements for longer deployments between offloads\u003c\/li\u003e\n\u003cli\u003eCompatible with HOBOware and HOBOware Pro software for logger setup, graphing and analysis\u003c\/li\u003e\n\u003c\/ul\u003e\n\u003ch3\u003eIn what environment does this data logger operate?\u003c\/h3\u003e\n\u003cp\u003eThis data logger operates in an indoor environment.\u003c\/p\u003e\n\u003ch3\u003eWhat measurements does this data logger support?\u003c\/h3\u003e\n\u003cp\u003eThe UX120-006M data logger supports the following measurements: 4-20mA, AC Current, AC Voltage, Air Velocity, Carbon Dioxide, Compressed Air Flow, DC Current, DC Voltage, Differential Pressure, Gauge Pressure, Kilowatts (kW), Temperature and Volatile Organic Comp.\u003c\/p\u003e\n\u003ch5\u003eSpecifications\u003c\/h5\u003e\n\u003cp\u003e\u003cu\u003e\u003cstrong\u003eLogger w\/Cable\u003c\/strong\u003e\u003c\/u\u003e\u003c\/p\u003e\n\u003cp\u003e\u003cstrong\u003eMeasurement Range\u003c\/strong\u003e:\u003cbr\u003e4-20mA (w\/CABLE-4-20MA) 0 to 20.1 mA\u003cbr\u003e0 to 2.5 V (w\/CABLE-2.5-STEREO)\u003cbr\u003e0 to 5 V (w\/CABLE-ADAP5)\u003cbr\u003e0 to 10 V (w\/ CABLE-ADAP10)\u003cbr\u003e0 to 24 V (w\/ CABLE-ADAP24)\u003c\/p\u003e\n\u003cp\u003e\u003cstrong\u003e\u003cimg align=\"right\" src=\"\/\/cdn.shopify.com\/s\/files\/1\/1798\/4991\/files\/plot-a-time-accuracy_large.gif?v=1489772136\" alt=\"\"\u003e\u003cbr\u003eAccuracy:\u003c\/strong\u003e\u003cbr\u003e4-20mA ±0.001 mA ±0.2% of reading (w\/CABLE-4-20MA)\u003cbr\u003e±0.1 mV ±0.1% of reading (w\/CABLE-2.5-STEREO)\u003cbr\u003e±0.2 mV ±0.3% of reading (w\/CABLE-ADAP5)\u003cbr\u003e±0.4 mV ±0.3% of reading (w\/ CABLE-ADAP10)\u003cbr\u003e±1.0 mV ±0.3% of reading(w\/ CABLE-ADAP24)\u003c\/p\u003e\n\u003cp\u003e\u003cstrong\u003eResolution:\u003c\/strong\u003e\u003cbr\u003e0.3 µA 4-20mA (w\/CABLE-4-20MA)\u003cbr\u003e40 µV (w\/CABLE-2.5-STEREO)\u003cbr\u003e80 µV (w\/CABLE-ADAP5)\u003cbr\u003e160 µV (w\/ CABLE-ADAP10)\u003cbr\u003e384 µV (w\/ CABLE-ADAP24)\u003c\/p\u003e\n\u003cp\u003e\u003cu\u003e\u003cstrong\u003eLogger\u003c\/strong\u003e\u003c\/u\u003e\u003c\/p\u003e\n\u003cp\u003e\u003cstrong\u003eOperating range logging:\u003c\/strong\u003e -20° to 70°C (-4° to 158°F); 0 to 95% RH (non-condensing);\u003cbr\u003e\u003cstrong\u003eLaunch\/readout: \u003c\/strong\u003e0° to 50°C (32° to 122°F) per USB specification\u003cbr\u003e\u003cstrong\u003eLogging rate:\u003c\/strong\u003e 1 second to 18 hours, 12 minutes, 15 seconds\u003cbr\u003e\u003cstrong\u003eLogging modes:\u003c\/strong\u003e Normal, burst, or statistics\u003cbr\u003e\u003cstrong\u003eMemory modes:\u003c\/strong\u003e Wrap when full or stop when full\u003cbr\u003e\u003cstrong\u003eStart modes:\u003c\/strong\u003e Immediate, push button, date \u0026amp; time, or next interval\u003cbr\u003e\u003cstrong\u003eStop modes\u003c\/strong\u003e: When memory full, push button, or date \u0026amp; time\u003cbr\u003e\u003cstrong\u003eRestart mode:\u003c\/strong\u003e Push button\u003cbr\u003e\u003cstrong\u003eTime accuracy:\u003c\/strong\u003e ±1 minute per month at 25°C (77°F), see Plot A\u003cbr\u003e\u003cstrong\u003eBattery life:\u003c\/strong\u003e 1 year, typical with logging rate of 1 minute and sampling interval of 15 seconds or greater\u003cbr\u003e\u003cstrong\u003eBattery type:\u003c\/strong\u003e Two AAA 1.5 V alkaline batteries, user replaceable\u003cbr\u003e\u003cstrong\u003eMemory:\u003c\/strong\u003e 4 MB (1.9 million measurements, maximum)\u003cbr\u003e\u003cstrong\u003eDownload type:\u003c\/strong\u003e USB 2.0 interface\u003cbr\u003e\u003cstrong\u003eFull memory download time: a\u003c\/strong\u003epproximately 1.5 minutes\u003cbr\u003e\u003cstrong\u003eLCD:\u003c\/strong\u003e LCD is visible from 0° to 50°C (32° to 122°F); the LCD may react slowly or go blank in temperatures outside this range\u003cbr\u003e\u003cstrong\u003eSize:\u003c\/strong\u003e 10.8 x 5.41 x 2.54 cm (4.25 x 2.13 x 1 in.)\u003cbr\u003e\u003cstrong\u003eWeight:\u003c\/strong\u003e 107.5 g (3.79 oz)\u003cbr\u003e\u003cstrong\u003eEnvironmental rating:\u003c\/strong\u003e IP50\u003c\/p\u003e\n\u003cp\u003e\u003cimg src=\"\/\/cdn.shopify.com\/s\/files\/1\/1798\/4991\/files\/CE_large.jpg?v=1489600685\" alt=\"\"\u003e - The CE Marking identifies this product as complying with all relevant directives in the European Union (EU).\u003c\/p\u003e\n\u003ch5\u003eCompatible Items\u003c\/h5\u003e\n\u003cspan style=\"text-decoration: underline;\"\u003e\u003cstrong\u003eSOFTWARE\u003c\/strong\u003e \u003c\/span\u003e\u003cbr\u003e\u003cstrong\u003eGraphing \u0026amp; Analysis\u003c\/strong\u003e\n\u003cul\u003e\n\u003cli\u003e\n\u003ca href=\"https:\/\/shoponset.hoskin.ca\/products\/hoboware-pro-mac-win-usb-cable-included-software-1?variant=31810617360\"\u003eBHW-PRO\u003c\/a\u003e HOBOware Pro CD or USB Drive (USB Cable Included) Software \u003c\/li\u003e\n\u003cli\u003e\n\u003ca href=\"https:\/\/shoponset.hoskin.ca\/products\/hoboware-pro-mac-win-download-only-software-1?variant=31810691216\"\u003eBHW-PRO-DLD\u003c\/a\u003e HOBOware Pro - Mac\/Win (Download Only) Software \u003c\/li\u003e\n\u003c\/ul\u003e\n\u003cspan style=\"text-decoration: underline;\"\u003e\u003cstrong\u003eCOMPATIBLE SENSORS\u003c\/strong\u003e \u003c\/span\u003e\u003cbr\u003e\u003cstrong\u003e4-20 mA\u003c\/strong\u003e\n\u003cul\u003e\n\u003cli\u003e\n\u003ca href=\"https:\/\/shoponset.hoskin.ca\/products\/4-to-20-ma-input?variant=31811618704\"\u003eCABLE-4-20mA\u003c\/a\u003e 4 to 20 mA Input Cable\u003c\/li\u003e\n\u003c\/ul\u003e\n\u003cstrong\u003eAC Current\u003c\/strong\u003e\n\u003cul\u003e\n\u003cli\u003e\n\u003ca href=\"https:\/\/shoponset.hoskin.ca\/products\/2-20-amp-split-core-ac-current-sensor?variant=40628218384\"\u003eCTV-A\u003c\/a\u003e 2-20 Amp split-core AC current Sensor \u003c\/li\u003e\n\u003cli\u003eCTV-B 5-50 Amp split-core AC current Sensor \u003c\/li\u003e\n\u003cli\u003eCTV-C 10-100 Amp split-core AC current Sensor \u003c\/li\u003e\n\u003cli\u003eCTV-D 20-200 Amp split-core AC current Sensor \u003c\/li\u003e\n\u003cli\u003eCTV-E 60 - 600 Amp split-core AC current Sensor\u003c\/li\u003e\n\u003c\/ul\u003e\n\u003cstrong\u003eAC Voltage\u003c\/strong\u003e\n\u003cul\u003e\n\u003cli\u003e\n\u003ca href=\"https:\/\/shoponset.hoskin.ca\/products\/conlab-0-150-volt-ac-transmitter-sensor?variant=31862227664\"\u003eT-CON-ACT-150\u003c\/a\u003e ConLab 0-150 Volt AC Transmitter Sensor \u003c\/li\u003e\n\u003cli\u003eT-CON-ACT-300 ConLab 0-300 Volt AC Transmitter Sensor\u003c\/li\u003e\n\u003c\/ul\u003e\n\u003cstrong\u003eAir Velocity\u003c\/strong\u003e\n\u003cul\u003e\n\u003cli\u003e\n\u003ca href=\"https:\/\/shoponset.hoskin.ca\/products\/air-velocity-0-15-to-5-m-s-30-to-985-fpm-sensor?variant=31862449872\"\u003eT-DCI-F900-L-O\u003c\/a\u003e Air Velocity (.15 to 5 m\/s) (30 to 985 fpm) Sensor \u003c\/li\u003e\n\u003cli\u003e\n\u003ca href=\"https:\/\/shoponset.hoskin.ca\/products\/air-velocity-sensor-0-15-to-10-m-s-30-to-1969-fpm-sensor?variant=31862516112\"\u003eT-DCI-F900-L-P\u003c\/a\u003e Air Velocity (0.15 to 10 m\/s) (30 to 1969 fpm) Sensor \u003c\/li\u003e\n\u003cli\u003e\n\u003ca href=\"https:\/\/shoponset.hoskin.ca\/products\/air-velocity-0-15-to-5-m-s-30-to-985-fpm-sensor?variant=31862449872\"\u003eT-DCI-F900-S-O\u003c\/a\u003e Air Velocity (0.15 to 5 m\/s) (30 to 985 fpm) Sensor \u003c\/li\u003e\n\u003cli\u003e\n\u003ca href=\"https:\/\/shoponset.hoskin.ca\/products\/air-velocity-sensor-0-15-to-10-m-s-30-to-1969-fpm-sensor?variant=31862516112\"\u003eT-DCI-F900-S-P\u003c\/a\u003e Air Velocity Sensor (0.15 to 10 m\/s) (30 to 1969 fpm) Sensor\u003c\/li\u003e\n\u003c\/ul\u003e\n\u003cstrong\u003eCarbon Dioxide\u003c\/strong\u003e\n\u003cul\u003e\n\u003cli\u003e\n\u003ca href=\"https:\/\/shoponset.hoskin.ca\/products\/telaire-7001-co2-sensor?variant=31862566736\"\u003eTEL-7001\u003c\/a\u003e Telaire 7001 CO2 Sensor\u003c\/li\u003e\n\u003c\/ul\u003e\n\u003cstrong\u003eCompressed Air Flow\u003c\/strong\u003e\n\u003cul\u003e\n\u003cli\u003e\n\u003ca href=\"https:\/\/shoponset.hoskin.ca\/products\/compressed-air-flow-meter-16-200scfm-sensor?variant=31862171088\"\u003eT-CDI-5200-10S\u003c\/a\u003e Compressed Air Flow Meter - 16-200 SCFM Sensor \u003c\/li\u003e\n\u003cli\u003e\n\u003ca href=\"https:\/\/shoponset.hoskin.ca\/products\/compressed-air-flow-meter-40-600scfm-sensor?variant=31862186192\"\u003eT-CDI-5400-20S\u003c\/a\u003e Compressed Air Flow Meter - 40-600 SCFM Sensor\u003c\/li\u003e\n\u003c\/ul\u003e\n\u003cstrong\u003eDC Amperage\u003c\/strong\u003e\n\u003cul\u003e\n\u003cli\u003e\n\u003ca href=\"https:\/\/shoponset.hoskin.ca\/products\/split-core-bi-polar-dc-transducer-sensor?variant=31863154704\"\u003eT-VER-971BP-200\u003c\/a\u003e Split-Core Bi-Polar DC Transducer Sensor\u003c\/li\u003e\n\u003c\/ul\u003e\n\u003cstrong\u003eDC Voltage (0-2.5v, 5v, 10v)\u003c\/strong\u003e\n\u003cul\u003e\n\u003cli\u003e\n\u003ca href=\"https:\/\/shoponset.hoskin.ca\/products\/0-to-2-5-voltsdc-voltage-input-sensor?variant=31811486992\"\u003eCABLE-2.5-STEREO\u003c\/a\u003e 0 to 2.5 VoltsDC Voltage Input Sensor \u003c\/li\u003e\n\u003cli\u003eCABLE-ADAP10 0 to 10 VoltsDC Voltage Input Sensor \u003c\/li\u003e\n\u003cli\u003eCABLE-ADAP24 0 to 24 VoltsDC Voltage Input Sensor \u003c\/li\u003e\n\u003cli\u003e\n\u003ca href=\"https:\/\/shoponset.hoskin.ca\/products\/0-to-10-voltsdc-voltage-input-sensor?variant=35651253584\"\u003eCABLE-ADAP5\u003c\/a\u003e 0 to 5 VoltsDC Voltage Input Sensor\u003c\/li\u003e\n\u003c\/ul\u003e\n\u003cstrong\u003eDifferential Pressure\u003c\/strong\u003e\n\u003cul\u003e\n\u003cli\u003e\n\u003ca href=\"https:\/\/shoponset.hoskin.ca\/products\/differential-air-pressure-transducer-sensor?variant=31863354960\"\u003eT-VER-PXU-L\u003c\/a\u003e Differential Air Pressure Transducer Sensor \u003c\/li\u003e\n\u003cli\u003eT-VER-PXU-X Differential Air Pressure Transducer Sensor\u003c\/li\u003e\n\u003c\/ul\u003e\n\u003cstrong\u003eGauge Pressure\u003c\/strong\u003e\n\u003cul\u003e\n\u003cli\u003e\n\u003ca href=\"https:\/\/shoponset.hoskin.ca\/products\/ashcroft-100-psig-gauge-pressure-sensor?variant=31861928272\"\u003eT-ASH-G2-100\u003c\/a\u003e Ashcroft (100-psig) Gauge Pressure Sensor \u003c\/li\u003e\n\u003cli\u003eT-ASH-G2-200 Ashcroft (200-psig) Gauge Pressure Sensor \u003c\/li\u003e\n\u003cli\u003eT-ASH-G2-500 Ashcroft (500-psig) Gauge Pressure Sensor\u003c\/li\u003e\n\u003c\/ul\u003e\n\u003cstrong\u003ePower\u003c\/strong\u003e\n\u003cul\u003e\n\u003cli\u003e\n\u003ca href=\"https:\/\/shoponset.hoskin.ca\/products\/veris-480-v-100-amp-kilowatt-transducer-sensor?variant=31863197328\"\u003eT-VER-8044-100\u003c\/a\u003e Veris 480 V, 100 Amp Kilowatt Transducer Sensor\u003c\/li\u003e\n\u003c\/ul\u003e\n\u003cspan class=\"product-subitem-group-header-bg\"\u003e \u003cspan class=\"product-subitem-group-header\" id=\"product-subitem-group-Temperature\"\u003e\u003c\/span\u003e \u003c\/span\u003e \u003cspan class=\"product-subitem-item\"\u003e\u003c\/span\u003e \u003cstrong\u003eTemperature\u003c\/strong\u003e\n\u003cul\u003e\n\u003cli\u003e\n\u003ca href=\"https:\/\/shoponset.hoskin.ca\/products\/air-water-soil-temperature-1-cable-sensor?variant=31862941968\"\u003eTMC1-HD \u003c\/a\u003eAir\/Water\/Soil Temperature (1' cable) Sensor \u003c\/li\u003e\n\u003cli\u003eTMC20-HD Air\/Water\/Soil Temperature (20' cable) Sensor \u003c\/li\u003e\n\u003cli\u003eTMC50-HD Air\/Water\/Soil Temperature (50' cable) Sensor \u003c\/li\u003e\n\u003cli\u003eTMC6-HC Stainless Steel Temperature Probe (6' cable) Sensor \u003c\/li\u003e\n\u003cli\u003eTMC6-HD Air\/Water\/Soil Temperature (6' cable) Sensor \u003c\/li\u003e\n\u003cli\u003eTMC6-HET emperature (6') Sensor\u003c\/li\u003e\n\u003c\/ul\u003e\n\u003cstrong\u003eVolatile Organic Compound\u003c\/strong\u003e\n\u003cul\u003e\n\u003cli\u003e\n\u003ca href=\"https:\/\/shoponset.hoskin.ca\/products\/volatile-organic-compound-voc?variant=31862573072\"\u003eT-ION-TVOC\u003c\/a\u003e Volatile Organic Compound (VOC) Sensor\u003c\/li\u003e\n\u003c\/ul\u003e\n\u003cspan class=\"\"\u003e\u003cspan\u003e\u003cstrong\u003e\u003c\/strong\u003e\u003c\/span\u003e\u003c\/span\u003e \u003cspan class=\"\"\u003e\u003cspan\u003e\u003c\/span\u003e\u003c\/span\u003e \u003cspan class=\"\"\u003e \u003cspan\u003e\u003cb\u003e\u003cu\u003eCOMMUNICATIONS\u003c\/u\u003e\u003c\/b\u003e\u003cbr\u003e\u003cstrong\u003eCommunication Cables\u003c\/strong\u003e\u003c\/span\u003e\u003c\/span\u003e\n\u003cul\u003e\n\u003cli\u003e\n\u003ca href=\"https:\/\/shoponset.hoskin.ca\/products\/usb-cable?variant=31812908240\"\u003eCABLE-USBMB\u003c\/a\u003e\u003cspan\u003e \u003c\/span\u003eUSB Cable \u003c\/li\u003e\n\u003c\/ul\u003e\n\u003cspan class=\"\"\u003e\u003cspan style=\"text-decoration: underline;\"\u003e\u003cstrong\u003eACCESSORIES\u003c\/strong\u003e\u003c\/span\u003e\u003cbr\u003e\u003cstrong\u003eCarrying Case\u003c\/strong\u003e\u003cspan\u003e\u003c\/span\u003e\u003c\/span\u003e\n\u003cul\u003e\n\u003cli\u003e\n\u003ca href=\"https:\/\/shoponset.hoskin.ca\/products\/pelican-case?variant=31813055952\"\u003eCASE-PELICAN-1510\u003c\/a\u003e\u003cspan\u003e \u003c\/span\u003ePelican Case \u003c\/li\u003e\n\u003c\/ul\u003e\n\u003cspan class=\"\"\u003e\u003cstrong\u003eCompliance Certificates\u003c\/strong\u003e\u003cspan\u003e\u003c\/span\u003e\u003c\/span\u003e\n\u003cul\u003e\n\u003cli\u003eCOMPLIANCE CERT Compliance Certification \u003c\/li\u003e\n\u003cli\u003eNIST Setup \u0026amp; CertificationsNIST-RH Initial Purchase RH NIST Calibration Service Certification \u003c\/li\u003e\n\u003cli\u003eNIST-SETUP Setup Charge for NIST Traceable Certification\u003c\/li\u003e\n\u003cli\u003eNIST-TEMP-POINT NIST Temperature point Certification\u003c\/li\u003e\n\u003c\/ul\u003e\n\u003ch5\u003eVideo\u003c\/h5\u003e\n\u003cp\u003e\u003ciframe src=\"https:\/\/www.youtube.com\/embed\/5A0h4N892mE\" width=\"560\" height=\"315\" allowfullscreen=\"\" frameborder=\"0\"\u003e\u003c\/iframe\u003e\u003c\/p\u003e","published_at":"2017-03-10T13:48:00","created_at":"2017-03-10T13:53:52","vendor":"Onset","type":"Data Loggers","tags":["4-20mA","AC Current","AC\/DC Voltage","Air Velocity","Building Monitoring","Carbon Dioxide","Compressed Air Flow","DC Current","DC Voltage","Differential Pressure","Gauge Pressure","kW and kWh","Temperature","UX120 Data Loggers","Volatile Organic Compounds"],"price":28700,"price_min":28700,"price_max":28700,"price_varies":false,"compare_at_price":null,"compare_at_price_min":0,"compare_at_price_max":0,"compare_at_price_varies":true,"all_variant_ids":[42959148816,44630036742303],"variants":[{"id":42959148816,"product_id":8504748304,"product_handle":"hobo-4-channel-analog-data-logger","title":"Default title","option1":"1+","option2":null,"option3":null,"sku":"UX120-006M","requires_shipping":true,"taxable":true,"featured_image":null,"image_id":null,"available":true,"name":"HOBO 4-Channel Analog Data Logger - 1+","options":["1+"],"price":28700,"weight":108,"compare_at_price":null,"inventory_quantity":-128,"inventory_management":null,"inventory_policy":"deny","inventory_in_cart":0,"inventory_remaining":-128,"incoming":false,"next_incoming_date":null,"taxable":true,"barcode":"","qb_lookup":{"levels": {"1": {"id":42959148816,"price":28700},"10": {"id":44630036742303,"price":27265}},"qb_price_varies":true,"grid":"\u003ctable class='shappify_qb_grid'\u003e \u003cthead\u003e \u003ctr\u003e \u003cth\u003eQty\u003c\/th\u003e \u003cth\u003ePrice\u003c\/th\u003e \u003c\/tr\u003e \u003c\/thead\u003e \u003ctbody\u003e \u003ctr\u003e \u003ctd\u003eBuy 1\u003c\/td\u003e \u003ctd\u003e$287.00 ea\u003c\/td\u003e \u003c\/tr\u003e \u003ctr\u003e \u003ctd\u003eBuy 10\u003c\/td\u003e \u003ctd\u003e$272.65 ea\u003c\/td\u003e \u003c\/tr\u003e \u003c\/tbody\u003e \u003c\/table\u003e\u003cstyle\u003etable.shappify_qb_grid{ width:100%;} table.shappify_qb_grid offers thead, table.shappify_qb_grid thead tr, table.shappify_qb_grid thead th, table.shappify_qb_grid thead td{background:#D6D6D6;color:#000000;font-weight:bold;} table.shappify_qb_grid tbody tr:nth-child(odd) {background-color:#FFFFFF;} table.shappify_qb_grid tbody tr:nth-child(even) {background-color:#EFEFEF;} table.shappify_qb_grid tbody {color:#000000;} table.shappify_qb_grid, table.shappify_qb_grid th, table.shappify_qb_grid td { text-align:left;padding:5px;border: 1px solid #CCCCCC;border-collapse: collapse;} table.shappify_qb_grid {margin: 0px;}\u003c\/style\u003e"}}],"available":true,"images":["\/\/shoponset.hoskin.ca\/cdn\/shop\/products\/HOBO-UX120-4-Channel-Analog-Data-Logger_HOBO-4-channel-analog-UX120-006M.jpg?v=1489182873","\/\/shoponset.hoskin.ca\/cdn\/shop\/products\/onset-hobo-4-channel-analog-ux120-006m-scaled_0.jpg?v=1489182880","\/\/shoponset.hoskin.ca\/cdn\/shop\/products\/HOBO-4-channel-analog-UX120-006M-app_0.jpg?v=1489182885","\/\/shoponset.hoskin.ca\/cdn\/shop\/products\/hobo-4-channel-analog-data-logger-ux120-006m-back-view.jpg?v=1489182891","\/\/shoponset.hoskin.ca\/cdn\/shop\/products\/hobo-4-channel-analog-data-logger-ux120-006m-bottom-view.jpg?v=1489182897","\/\/shoponset.hoskin.ca\/cdn\/shop\/products\/hobo-4-channel-analog-data-logger-ux120-006m-side-view.jpg?v=1489182902"],"featured_image":"\/\/shoponset.hoskin.ca\/cdn\/shop\/products\/HOBO-UX120-4-Channel-Analog-Data-Logger_HOBO-4-channel-analog-UX120-006M.jpg?v=1489182873","options":["Title"],"url":"\/products\/hobo-4-channel-analog-data-logger","hasQB":true}
Data Loggers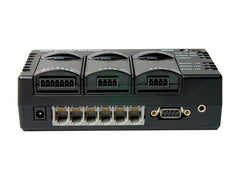 Quick View
{"id":8482706256,"title":"HOBO H22 Energy Data Logger","handle":"hobo","description":"\u003ch5\u003eImportant Info\u003c\/h5\u003e\n\u003cp\u003e\u003cspan\u003eThe H22-001 Energy Logger requires HOBOware software and part # \u003c\/span\u003e\u003ca href=\"https:\/\/shoponset.hoskin.ca\/products\/usb-interface-cables\"\u003eADAPT-SER-USB\u003c\/a\u003e\u003cspan\u003e interface cables. See compatible items below.\u003c\/span\u003e\u003c\/p\u003e\n\u003ch3\u003eOverview\u003c\/h3\u003e\n\u003cp\u003eMonitor energy and industrial equipment with this 15-channel data logger (Part # H22-001). With multiple channels, energy and facility managers can quickly and easily detect and address a variety of issues relating to HVAC, machinery, and other systems.  The HOBO H22-001 Energy Data Logger is modular and more economic than its alternatives because a toolbox full of data loggers is not necessary.\u003c\/p\u003e\n\u003cp\u003eDeploy this product with a variety of pre-defined plug-and-play smart sensors to create a robust monitoring system. Compatible with HOBOware software, researchers can conduct effective data analysis in minutes.\u003c\/p\u003e\n\u003ch3\u003eHighlighted Features\u003c\/h3\u003e\n\u003cul\u003e\n\u003cli\u003eOnset's most flexible data logger records up to 15 channels of over a dozen measurements\u003c\/li\u003e\n\u003cli\u003eProvides 12v excitation for third-party sensors\u003c\/li\u003e\n\u003cli\u003ePre-configured smart sensors get you started fast\u003c\/li\u003e\n\u003cli\u003eSignal conditioning modules retain configurations until you change them, providing plug-and-play convenience for commonly used sensors\u003c\/li\u003e\n\u003cli\u003eFlexible power options include battery operation for AC power adapter\u003c\/li\u003e\n\u003c\/ul\u003e\n\u003ch3\u003eIn what environment does this data logger operate?\u003c\/h3\u003e\n\u003cp\u003eThis data logger operates in an indoor environment.\u003c\/p\u003e\n\u003ch3\u003eWhat measurements does this data logger support?\u003c\/h3\u003e\n\u003cp\u003eThe H22-001 data logger supports the following measurements: 4-20mA, AC Current, AC Voltage, Air Velocity, Amp Hour (Ah), Carbon Dioxide, Compressed Air Flow, DC Current, DC Voltage, Differential Pressure, Gauge Pressure, Kilowatt Hours (kWh), Kilowatts (kW), Power Factor (PF), Pulse Input, Relative Humidity, Temperature, Volatile Organic Comp., Volt-Amp Reactive, Volt-Amp Reactive hour, Volt-Amps (VA), Water Flow, Watt Hours (Wh), Watts (W) and Wind\u003c\/p\u003e\n\u003ch5\u003eSpecifications\u003c\/h5\u003e\n\u003ctable\u003e\n\u003ctbody\u003e\n\u003ctr\u003e\n\u003ctd style=\"font-weight: bold;\"\u003eOperating range:\u003c\/td\u003e\n\u003ctd\u003e-20° to 50°C (-4° to 122°F) with alkaline batteries \u003cbr\u003e -40° to 60°C (-40° to 140°F) with lithium batteries\u003c\/td\u003e\n\u003c\/tr\u003e\n\u003ctr\u003e\n\u003ctd style=\"font-weight: bold;\"\u003eSensor inputs:\u003c\/td\u003e\n\u003ctd\u003eThree FlexSmart multi-channel modules and up to 6 Smart Sensors (which may have multiple parameters\/channels)\u003c\/td\u003e\n\u003c\/tr\u003e\n\u003ctr\u003e\n\u003ctd style=\"font-weight: bold;\"\u003eSensor connectors:\u003c\/td\u003e\n\u003ctd\u003eSix RJ-12 Smart Sensor jacks plus 3 FlexSmart module slots\u003c\/td\u003e\n\u003c\/tr\u003e\n\u003ctr\u003e\n\u003ctd style=\"font-weight: bold;\"\u003eCommunication:\u003c\/td\u003e\n\u003ctd\u003eRS-232 via 3.5 mm serial port or\/and 9-pin D-Sub connector\u003c\/td\u003e\n\u003c\/tr\u003e\n\u003ctr\u003e\n\u003ctd style=\"font-weight: bold;\"\u003eDimensions:\u003c\/td\u003e\n\u003ctd\u003e15.6 cm x 8.4 cm x 4.6 cm (6.13\" x 3.31\" x 1.81\")\u003c\/td\u003e\n\u003c\/tr\u003e\n\u003ctr\u003e\n\u003ctd style=\"font-weight: bold;\"\u003eWeight:\u003c\/td\u003e\n\u003ctd\u003e435 g (15.23 oz) with batteries 238 g (8.33 oz) without batteries\u003c\/td\u003e\n\u003c\/tr\u003e\n\u003ctr\u003e\n\u003ctd style=\"font-weight: bold;\"\u003eMemory:\u003c\/td\u003e\n\u003ctd\u003e512K nonvolatile flash data storage\u003c\/td\u003e\n\u003c\/tr\u003e\n\u003ctr\u003e\n\u003ctd style=\"font-weight: bold;\"\u003eMemory modes:\u003c\/td\u003e\n\u003ctd\u003eStop when full; wrap when full\u003c\/td\u003e\n\u003c\/tr\u003e\n\u003ctr\u003e\n\u003ctd style=\"font-weight: bold;\"\u003eOperational indicators:\u003c\/td\u003e\n\u003ctd\u003eSix indicators provide logging and sensor network status\u003c\/td\u003e\n\u003c\/tr\u003e\n\u003ctr\u003e\n\u003ctd style=\"font-weight: bold;\"\u003eLogging interval:\u003c\/td\u003e\n\u003ctd\u003eOne second to 18 hours, user-specified interval (2-second minimum for two-channel S-FS-TRMSA operation)\u003c\/td\u003e\n\u003c\/tr\u003e\n\u003ctr\u003e\n\u003ctd style=\"font-weight: bold;\"\u003eSensor excitation:\u003c\/td\u003e\n\u003ctd\u003e12 V DC at 200 mA total, with user-programmable warmup time on a per-channel basis\u003c\/td\u003e\n\u003c\/tr\u003e\n\u003ctr\u003e\n\u003ctd style=\"font-weight: bold;\"\u003eBattery life:\u003c\/td\u003e\n\u003ctd\u003eOne year typical use (up to 75 mA excitation with 10-minute or longer logging Interval and 1-second warmup time)\u003c\/td\u003e\n\u003c\/tr\u003e\n\u003ctr\u003e\n\u003ctd style=\"font-weight: bold;\"\u003eBattery type:\u003c\/td\u003e\n\u003ctd\u003eEight standard AA alkaline batteries included (for operating conditions -20°C\/-4°F to 50°C\/122°F); optional AA lithium batteries available for operating conditions of -40° to 60°C (-40° to 140°F).\u003c\/td\u003e\n\u003c\/tr\u003e\n\u003ctr\u003e\n\u003ctd style=\"font-weight: bold;\"\u003eExternal power:\u003c\/td\u003e\n\u003ctd\u003eSupports optional 13.6 V DC regulated AC Wall Adapter Connector. Internal batteries may remain installed. Alternatively, an automotive battery or 9-12 V DC regulated Wall Adapter may be used, but it is recommended to remove the internal batteries since they will discharge to the level of the external supply.\u003c\/td\u003e\n\u003c\/tr\u003e\n\u003ctr\u003e\n\u003ctd style=\"font-weight: bold;\"\u003eTime accuracy:\u003c\/td\u003e\n\u003ctd\u003e0 to 2 seconds for the first data point and ±5 seconds per week at 25°C (77°F)\u003c\/td\u003e\n\u003c\/tr\u003e\n\u003ctr\u003e\n\u003ctd style=\"font-weight: bold;\"\u003eLogging mode:\u003c\/td\u003e\n\u003ctd\u003eImmediate, timed delay, or trigger (button-push) start options; supports sampling intervals for some sensors\u003c\/td\u003e\n\u003c\/tr\u003e\n\u003ctr\u003e\n\u003ctd style=\"font-weight: bold;\"\u003eData communication:\u003c\/td\u003e\n\u003ctd\u003eCurrent readings while logging; read out while logging; read out when stopped\u003c\/td\u003e\n\u003c\/tr\u003e\n\u003c\/tbody\u003e\n\u003c\/table\u003e\n\u003cp\u003e \u003c\/p\u003e\n\u003ch5\u003e\u003cspan\u003eCompatible Items \u003c\/span\u003e\u003c\/h5\u003e\n\u003cspan style=\"text-decoration: underline;\"\u003e\u003cstrong\u003eSOFTWARE\u003c\/strong\u003e \u003c\/span\u003e\u003cbr\u003e\u003cstrong\u003eGraphing \u0026amp; Analysis\u003c\/strong\u003e\n\u003cul\u003e\n\u003cli\u003e\n\u003ca href=\"https:\/\/shoponset.hoskin.ca\/products\/hoboware-pro-mac-win-usb-cable-included-software-1?variant=31810617360\"\u003eBHW-PRO\u003c\/a\u003e HOBOware Pro CD or USB Drive (USB Cable Included) Software \u003c\/li\u003e\n\u003cli\u003e\n\u003ca href=\"https:\/\/shoponset.hoskin.ca\/products\/hoboware-pro-mac-win-download-only-software-1?variant=31810691216\"\u003eBHW-PRO-DLD\u003c\/a\u003e HOBOware Pro - Mac\/Win (Download Only) Software \u003c\/li\u003e\n\u003c\/ul\u003e\n\u003cspan style=\"text-decoration: underline;\"\u003e\u003cstrong\u003eCOMPATIBLE SENSORS\u003c\/strong\u003e \u003c\/span\u003e\u003cbr\u003e\u003cstrong\u003e4-20 mA\u003c\/strong\u003e\n\u003cul\u003e\n\u003cli\u003e\n\u003ca href=\"https:\/\/shoponset.hoskin.ca\/products\/4-to-20-ma-input?variant=31811618704\"\u003eCABLE-4-20mA\u003c\/a\u003e 4 to 20 mA Input Cable\u003c\/li\u003e\n\u003c\/ul\u003e\n\u003cstrong\u003eAC Current\u003cbr\u003e\u003c\/strong\u003e T-ACT-0750-020 20 Amp Accu-CT Split-Core Current Transformer 333mV Sensor\n\u003cul\u003e\n\u003cli\u003eT-ACT-0750-050 50 Amp Accu-CT Split-Core Current Transformer 333mV Sensor\u003c\/li\u003e\n\u003cli\u003eT-ACT-0750-100 100 Amp Accu-CT Split-Core Current Transformer 333mV Sensor\u003c\/li\u003e\n\u003cli\u003eT-ACT-0750-250 250 Amp Accu-CT Split-Core Current Transformer 333mV Sensor\u003c\/li\u003e\n\u003cli\u003eT-MAG-0400-05 5 AMP Mini Split-core AC Current Transformer Sensor\u003c\/li\u003e\n\u003cli\u003eT-MAG-0400-20 20 AMP Mini Split-core AC Current Transformer Sensor\u003c\/li\u003e\n\u003cli\u003eT-MAG-0400-50 50 AMP Mini Split-core AC Current Transformer Sensor\u003c\/li\u003e\n\u003cli\u003eT-MAG-0400-75 75 AMP Mini Split-core AC Current Transformer Sensor\u003c\/li\u003e\n\u003cli\u003eT-MAG-SCT-100 100 AMP Split-core AC Current Transformer Sensor\u003c\/li\u003e\n\u003cli\u003eT-MAG-SCT-200 200 AMP Split-core AC Current Transformer Sensor\u003c\/li\u003e\n\u003cli\u003eT-MAG-SCT-600 600 AMP Split-core AC Current Transformer Sensor\u003c\/li\u003e\n\u003c\/ul\u003e\n\u003cul\u003e\u003c\/ul\u003e\n\u003cstrong\u003eAC Voltage\u003cbr\u003e\u003c\/strong\u003e\n\u003cul\u003e\n\u003cli\u003e\n\u003ca href=\"T-MAG-SPT-150\"\u003eT-MAG-SPT-150\u003c\/a\u003e 150 Volt AC Potential Transformer Sensor\u003c\/li\u003e\n\u003cli\u003eT-MAG-SPT-300 300 Volt AC Potential Transformer Sensor\u003c\/li\u003e\n\u003cli\u003eT-MAG-SPT-600 600 Volt AC Potential Transformer Sensor\u003c\/li\u003e\n\u003c\/ul\u003e\n\u003cul\u003e\u003c\/ul\u003e\n\u003cstrong\u003eAir Velocity\u003c\/strong\u003e\n\u003cul\u003e\n\u003cli\u003e\n\u003ca href=\"https:\/\/shoponset.hoskin.ca\/products\/air-velocity-0-15-to-5-m-s-30-to-985-fpm-sensor?variant=31862449872\"\u003eT-DCI-F900-L-O\u003c\/a\u003e Air Velocity (.15 to 5 m\/s) (30 to 985 fpm) Sensor \u003c\/li\u003e\n\u003cli\u003e\n\u003ca href=\"https:\/\/shoponset.hoskin.ca\/products\/air-velocity-sensor-0-15-to-10-m-s-30-to-1969-fpm-sensor?variant=31862516112\"\u003eT-DCI-F900-L-P\u003c\/a\u003e Air Velocity (0.15 to 10 m\/s) (30 to 1969 fpm) Sensor \u003c\/li\u003e\n\u003cli\u003e\n\u003ca href=\"https:\/\/shoponset.hoskin.ca\/products\/air-velocity-0-15-to-5-m-s-30-to-985-fpm-sensor?variant=31862449872\"\u003eT-DCI-F900-S-O\u003c\/a\u003e Air Velocity (0.15 to 5 m\/s) (30 to 985 fpm) Sensor \u003c\/li\u003e\n\u003cli\u003e\n\u003ca href=\"https:\/\/shoponset.hoskin.ca\/products\/air-velocity-sensor-0-15-to-10-m-s-30-to-1969-fpm-sensor?variant=31862516112\"\u003eT-DCI-F900-S-P\u003c\/a\u003e Air Velocity Sensor (0.15 to 10 m\/s) (30 to 1969 fpm) Sensor\u003c\/li\u003e\n\u003c\/ul\u003e\n\u003cstrong\u003eAC Current, AC Voltage, Amp Hour, Kilowatts, Power Factor, Reactive Power, Volt-Amp Reactive Hour, Volt-Amps, Watt Hours, Watts\u003c\/strong\u003e\n\u003cul\u003e\n\u003cli\u003e\n\u003ca href=\"https:\/\/shoponset.hoskin.ca\/products\/e50b2-power-energy-meter-sensor?variant=31863275088\"\u003eT-VER-E50B2\u003c\/a\u003e E50B2 Power \u0026amp; Energy Meter Sensor\u003c\/li\u003e\n\u003c\/ul\u003e\n\u003cstrong\u003eBarometric Pressure\u003c\/strong\u003e\n\u003cul\u003e\n\u003cli\u003e\n\u003ca href=\"https:\/\/shoponset.hoskin.ca\/products\/smart-barometric-pressure-sensor?variant=31858804304\"\u003eS-BPB-CM50\u003c\/a\u003e Smart Barometric Pressure Sensor\u003c\/li\u003e\n\u003c\/ul\u003e\n\u003cstrong\u003eCarbon Dioxide\u003c\/strong\u003e\n\u003cul\u003e\n\u003cli\u003e\n\u003ca href=\"https:\/\/shoponset.hoskin.ca\/products\/telaire-7001-co2-sensor?variant=31862566736\"\u003eTEL-7001\u003c\/a\u003e Telaire 7001 CO2 Sensor\u003c\/li\u003e\n\u003c\/ul\u003e\n\u003cstrong\u003eCompressed Air Flow\u003c\/strong\u003e\n\u003cul\u003e\n\u003cli\u003e\n\u003ca href=\"https:\/\/shoponset.hoskin.ca\/products\/compressed-air-flow-meter-16-200scfm-sensor?variant=31862171088\"\u003eT-CDI-5200-10S\u003c\/a\u003e Compressed Air Flow Meter - 16-200 SCFM Sensor \u003c\/li\u003e\n\u003cli\u003e\n\u003ca href=\"https:\/\/shoponset.hoskin.ca\/products\/compressed-air-flow-meter-40-600scfm-sensor?variant=31862186192\"\u003eT-CDI-5400-20S\u003c\/a\u003e Compressed Air Flow Meter - 40-600 SCFM Sensor\u003c\/li\u003e\n\u003c\/ul\u003e\n\u003cstrong\u003eDC Current\u003c\/strong\u003e\n\u003cul\u003e\n\u003cli\u003e\n\u003ca href=\"https:\/\/shoponset.hoskin.ca\/products\/split-core-200a-dc-transducer-sensor\"\u003eT-VER-971BP-200\u003c\/a\u003e Split-Core Bi-Polar DC Transducer Sensor\u003c\/li\u003e\n\u003c\/ul\u003e\n\u003cstrong\u003eDC Voltage (0-2.5v, 5v, 10v)\u003c\/strong\u003e\n\u003cul\u003e\n\u003cli\u003e\n\u003ca href=\"https:\/\/shoponset.hoskin.ca\/products\/flexsmart-analog-module-2-channels-sensor?variant=31859382928\"\u003eS-FS-CVIA\u003c\/a\u003e FlexSmart Analog Module (2 channels) Sensor\u003c\/li\u003e\n\u003c\/ul\u003e\n\u003cstrong\u003eDifferential Pressure\u003c\/strong\u003e\n\u003cul\u003e\n\u003cli\u003e\n\u003ca href=\"https:\/\/shoponset.hoskin.ca\/products\/differential-air-pressure-transducer-sensor?variant=31863354960\"\u003eT-VER-PXU-L\u003c\/a\u003e Differential Air Pressure Transducer Sensor \u003c\/li\u003e\n\u003cli\u003eT-VER-PXU-X Differential Air Pressure Transducer Sensor\u003c\/li\u003e\n\u003c\/ul\u003e\n\u003cstrong\u003eGauge Pressure\u003c\/strong\u003e\n\u003cul\u003e\n\u003cli\u003e\n\u003ca href=\"https:\/\/shoponset.hoskin.ca\/products\/ashcroft-100-psig-gauge-pressure-sensor?variant=31861928272\"\u003eT-ASH-G2-100\u003c\/a\u003e Ashcroft (100-psig) Gauge Pressure Sensor \u003c\/li\u003e\n\u003cli\u003eT-ASH-G2-200 Ashcroft (200-psig) Gauge Pressure Sensor \u003c\/li\u003e\n\u003cli\u003eT-ASH-G2-500 Ashcroft (500-psig) Gauge Pressure Sensor\u003c\/li\u003e\n\u003c\/ul\u003e\n\u003cstrong\u003eKilowatt Hours\u003c\/strong\u003e\n\u003cul\u003e\n\u003cli\u003e\n\u003ca href=\"https:\/\/shoponset.hoskin.ca\/products\/veris-kilowatt-hour-transducer-1-phase-300-amp-sensor?variant=31863233744\"\u003eT-VER-8051-300\u003c\/a\u003e Veris Kilowatt Hour Transducer 1-Phase, 300 Amp Sensor\u003c\/li\u003e\n\u003cli\u003e\n\u003ca href=\"https:\/\/shoponset.hoskin.ca\/products\/veris-kilowatt-hour-transducer-3-phase-800-amp-sensor?variant=31863244752\"\u003eT-VER-8053-800\u003c\/a\u003e Veris Kilowatt Hour Transducer 3-Phase, 800 Amp Sensor\u003c\/li\u003e\n\u003cli\u003e\n\u003ca href=\"https:\/\/shoponset.hoskin.ca\/products\/e50b2-power-energy-meter-sensor?variant=31863275088\"\u003eT-VER-E50B2\u003c\/a\u003e E50B2 Power \u0026amp; Energy Meter Sensor\u003c\/li\u003e\n\u003cli\u003e\n\u003ca href=\"https:\/\/shoponset.hoskin.ca\/products\/wattnode-208-240-vac-3-phase-delta-wye-kwh-transducer-sensor?variant=31863370512\"\u003eT-WNB-3D-240\u003c\/a\u003e WattNode 208\/240 VAC 3-phase Delta\/Wye kWh Transducer Sensor\u003c\/li\u003e\n\u003cli\u003e\n\u003ca href=\"https:\/\/shoponset.hoskin.ca\/products\/wattnode-480-vac-3-phase-delta-wye-kwh-transducer-sensor?variant=31863449104\"\u003eT-WNB-3D-480\u003c\/a\u003e WattNode 480 VAC 3-phase Delta\/Wye kWh Transducer Sensor\u003c\/li\u003e\n\u003cli\u003e\n\u003ca href=\"https:\/\/shoponset.hoskin.ca\/products\/wattnode-208-240-vac-1-2-or-3-phase-wye-kwh-transducer-sensor?variant=31863517584\"\u003eT-WNB-3Y-208\u003c\/a\u003e WattNode 208\/240 VAC 1,2, or 3 Phase Wye kWh Transducer Sensor\u003c\/li\u003e\n\u003cli\u003e\n\u003ca href=\"https:\/\/shoponset.hoskin.ca\/products\/wattnode-208-240-vac-1-2-or-3-phase-wye-kwh-transducer-sensor?variant=31863517584\"\u003eT-WNB-3Y-208-P\u003c\/a\u003e WattNode 208-240VAC 2 or 3 Branch Circuit kWh Transducer Sensor\u003c\/li\u003e\n\u003c\/ul\u003e\n\u003cstrong\u003eKilowatts\u003c\/strong\u003e\n\u003cul\u003e\n\u003cli\u003e\n\u003ca href=\"https:\/\/shoponset.hoskin.ca\/products\/veris-480-v-100-amp-kilowatt-transducer-sensor?variant=31863197328\"\u003eT-VER-8044-100\u003c\/a\u003e Veris 480 V, 100 Amp Kilowatt Transducer Sensor\u003c\/li\u003e\n\u003cli\u003e\n\u003cdiv class=\"product-subitem-name\"\u003e\n\u003ca href=\"https:\/\/shoponset.hoskin.ca\/products\/e50b2-power-energy-meter-sensor?variant=31863275088\"\u003eT-VER-E50B2\u003c\/a\u003e E50B2 Power \u0026amp; Energy Meter Sensor\u003c\/div\u003e\n\u003c\/li\u003e\n\u003c\/ul\u003e\n\u003cstrong\u003eLight Intensity\u003c\/strong\u003e\n\u003cul\u003e\n\u003cli\u003e\n\u003ca href=\"https:\/\/shoponset.hoskin.ca\/products\/photosynthetic-light-par-smart-sensor?variant=31859523024\"\u003eS-LIA-M003\u003c\/a\u003e Photosynthetic Light (PAR) Smart Sensor \u003c\/li\u003e\n\u003cli\u003e\n\u003ca href=\"https:\/\/shoponset.hoskin.ca\/products\/solar-radiation-silicon-pyranometer-smart-sensor?variant=31859542544\"\u003eS-LIB-M003\u003c\/a\u003e Solar Radiation (Silicon Pyranometer) Smart Sensor\u003c\/li\u003e\n\u003c\/ul\u003e\n\u003cstrong\u003ePulse Input\u003c\/strong\u003e\n\u003cul\u003e\n\u003cli\u003e\n\u003ca href=\"https:\/\/shoponset.hoskin.ca\/products\/electronic-switch-pulse-input-adapter-1-meter-sensor?variant=31860860176\"\u003eS-UCC-M001\u003c\/a\u003e Electronic Switch Pulse Input Adapter - 1 meter Sensor\u003c\/li\u003e\n\u003cli\u003eS-UCC-M006 Electronic Switch Pulse Input Adapter - 6 meters Sensor\u003c\/li\u003e\n\u003cli\u003e\n\u003ca href=\"https:\/\/shoponset.hoskin.ca\/products\/contact-closure-pulse-input-adapter-1-meter-sensor?variant=31860898064\"\u003eS-UCD-M001\u003c\/a\u003e Contact Closure Pulse Input Adapter - 1 meter Sensor\u003c\/li\u003e\n\u003cli\u003eS-UCD-M006 Contact Closure Pulse Input Adapter - 6 meters Sensor\u003c\/li\u003e\n\u003c\/ul\u003e\n\u003cstrong\u003eRainfall\u003c\/strong\u003e\n\u003cul\u003e\n\u003cli\u003e\n\u003ca href=\"https:\/\/shoponset.hoskin.ca\/products\/0-01-rain-gauge-2m-cable-smart-sensor?variant=31859890000\"\u003eS-RGA-M002\u003c\/a\u003e 0.01\" Rain Gauge (2m cable) Smart Sensor \u003c\/li\u003e\n\u003cli\u003e\n\u003ca href=\"https:\/\/shoponset.hoskin.ca\/products\/0-2-mm-rainfall-2m-cable-smart-sensor?variant=31859943952\"\u003eS-RGB-M002\u003c\/a\u003e 0.2 mm Rainfall (2m cable) Smart Sensor\u003c\/li\u003e\n\u003c\/ul\u003e\n\u003cstrong\u003eRelative Humidity\u003c\/strong\u003e\n\u003cul\u003e\n\u003cli\u003e\n\u003ca href=\"https:\/\/shoponset.hoskin.ca\/products\/12-bit-temperature-relative-humidity-2m-cable-smart-sensor?variant=31860540176\"\u003eS-THB-M002\u003c\/a\u003e 12-bit Temperature\/Relative Humidity (2m cable) Smart Sensor \u003c\/li\u003e\n\u003cli\u003eS-THB-M008 12-bit Temperature\/Relative Humidity (8m cable) Smart Sensor\u003c\/li\u003e\n\u003c\/ul\u003e\n\u003cspan class=\"product-subitem-group-header-bg\"\u003e \u003cspan class=\"product-subitem-group-header\" id=\"product-subitem-group-Temperature\"\u003e\u003c\/span\u003e \u003c\/span\u003e \u003cspan class=\"product-subitem-item\"\u003e\u003c\/span\u003e \u003cstrong\u003eTemperature\u003c\/strong\u003e\n\u003cul\u003e\n\u003cli\u003e\n\u003ca href=\"https:\/\/shoponset.hoskin.ca\/products\/12-bit-temperature-2m-cable-smart-sensor?variant=31860681680\"\u003eS-TMB-M002 \u003c\/a\u003e12-Bit Temperature (2m cable) Smart Sensor \u003c\/li\u003e\n\u003cli\u003eS-TMB-M006 12-Bit Temperature (6m cable) Smart Sensor \u003c\/li\u003e\n\u003cli\u003eS-TMB-M017 12-Bit Temperature (17 m cable) Smart Sensor\u003c\/li\u003e\n\u003c\/ul\u003e\n\u003cstrong\u003eVolatile Organic Compound\u003c\/strong\u003e\n\u003cul\u003e\n\u003cli\u003e\n\u003ca href=\"https:\/\/shoponset.hoskin.ca\/products\/volatile-organic-compound-voc?variant=31862573072\"\u003eT-ION-TVOC\u003c\/a\u003e Volatile Organic Compound (VOC) Sensor\u003c\/li\u003e\n\u003c\/ul\u003e\n\u003cstrong\u003eWater Flow\u003c\/strong\u003e\n\u003cul\u003e\n\u003cli\u003e\n\u003ca href=\"https:\/\/shoponset.hoskin.ca\/products\/no-lead-water-flow-meter-sensor?variant=31863076048\"\u003eT-MINOL-130-NL\u003c\/a\u003e No-lead Water Flow Meter Sensor\u003c\/li\u003e\n\u003c\/ul\u003e\n\u003cstrong\u003eWind\u003c\/strong\u003e\n\u003cul\u003e\n\u003cli\u003e\n\u003ca href=\"https:\/\/shoponset.hoskin.ca\/products\/rm-young-wind-monitor-model-15103-sensor\"\u003eRMYOUNG-05103\u003c\/a\u003e RM Young Wind Monitor (model 05103) Sensor\u003c\/li\u003e\n\u003cli\u003e\n\u003ca href=\"https:\/\/shoponset.hoskin.ca\/products\/rm-young-marine-wind-monitor-model-05106-sensor\"\u003eRMYOUNG-05106 \u003c\/a\u003eRM Young Marine Wind Monitor (model 05106) Sensor\u003c\/li\u003e\n\u003cli\u003e\n\u003ca href=\"https:\/\/shoponset.hoskin.ca\/products\/rm-young-aq-wind-monitor-model-05305-sensor\"\u003eRMYOUNG-05305\u003c\/a\u003e RM Young AQ Wind Monitor (model 05305) Sensor\u003c\/li\u003e\n\u003cli\u003e\n\u003ca href=\"https:\/\/shoponset.hoskin.ca\/products\/davis-wind-speed-and-direction-smart-sensor?variant=31861158416\"\u003eS-WCF-M003\u003c\/a\u003e Davis Wind Speed and Direction Smart Sensor\u003c\/li\u003e\n\u003c\/ul\u003e\n\u003cspan class=\"\"\u003e\u003cspan\u003e\u003cstrong\u003e\u003c\/strong\u003e\u003c\/span\u003e\u003c\/span\u003e \u003cspan class=\"\"\u003e\u003cspan\u003e\u003c\/span\u003e\u003c\/span\u003e \u003cspan class=\"\"\u003e \u003cspan\u003e\u003cb\u003e\u003cu\u003eCOMMUNICATIONS\u003c\/u\u003e\u003c\/b\u003e\u003cbr\u003e\u003cstrong\u003eCommunication Cables\u003c\/strong\u003e\u003c\/span\u003e\u003c\/span\u003e\n\u003cul\u003e\n\u003cli\u003e\n\u003ca href=\"https:\/\/shoponset.hoskin.ca\/products\/usb-interface-cables?variant=31809388176\"\u003eADAPT-SER-USB\u003c\/a\u003e USB Interface Cable(s) Cable\u003cbr\u003e\u003ca href=\"https:\/\/shoponset.hoskin.ca\/products\/interface-cable-for-pcs?variant=31812514704\"\u003eCABLE-PC-3.5\u003c\/a\u003e Interface Cable for PCs Cable\u003c\/li\u003e\n\u003c\/ul\u003e\n\u003cstrong\u003eData Offload - Base Stations - Shuttles - Couplers\u003c\/strong\u003e\n\u003cul\u003e\n\u003cli\u003e\n\u003ca href=\"https:\/\/shoponset.hoskin.ca\/products\/hobo-u-shuttle?variant=31953412304\"\u003eU-DT-1\u003c\/a\u003e HOBO U-Shuttle\u003c\/li\u003e\n\u003c\/ul\u003e\n\u003cstrong\u003e\u003cspan style=\"text-decoration: underline;\"\u003eMAINTENANCE\u003c\/span\u003e\u003c\/strong\u003e \u003cstrong\u003eBatteries\u003c\/strong\u003e\n\u003cul\u003e\n\u003cli\u003e\n\u003ca href=\"https:\/\/shoponset.hoskin.ca\/products\/lithium-batteries?variant=31816092496\"\u003eHWSB-LI\u003c\/a\u003e Lithium Batteries\u003c\/li\u003e\n\u003c\/ul\u003e\n\u003cstrong\u003eSpares Kit \u003c\/strong\u003e\n\u003cul\u003e\n\u003cli\u003e\n\u003ca href=\"https:\/\/shoponset.hoskin.ca\/products\/h22-spares-kit?variant=31809823504\"\u003eA-H22-SPARES-1 \u003c\/a\u003eH22 Spares Kit Replacement\u003c\/li\u003e\n\u003c\/ul\u003e\n\u003cspan class=\"\"\u003e\u003cspan style=\"text-decoration: underline;\"\u003e\u003cstrong\u003eACCESSORIES\u003c\/strong\u003e\u003c\/span\u003e\u003c\/span\u003e \u003cspan class=\"\"\u003e\u003cstrong\u003eAC Power\u003c\/strong\u003e\u003cbr\u003e\u003c\/span\u003e\n\u003cul\u003e\n\u003cli\u003e\n\u003ca href=\"https:\/\/shoponset.hoskin.ca\/products\/ac-power-adapter-adapter?variant=31857878544\"\u003eP-AC-1\u003c\/a\u003e AC Power Adapter Adapter\u003c\/li\u003e\n\u003c\/ul\u003e\n\u003cspan class=\"\"\u003e\u003cspan class=\"\"\u003e\u003cstrong\u003eCable Adapters - Splitters\u003c\/strong\u003e\u003c\/span\u003e\u003c\/span\u003e\n\u003cul\u003e\n\u003cli\u003e\n\u003ca href=\"https:\/\/shoponset.hoskin.ca\/products\/1-to-2-sensor-communication-adapter-adapter?variant=31858670480\"\u003eS-ADAPT-5 \u003c\/a\u003e1-to-2 sensor communication adapter Adapter\u003c\/li\u003e\n\u003cli\u003e\n\u003ca href=\"https:\/\/shoponset.hoskin.ca\/products\/smart-sensor-consolidator-box-adapter?variant=31858699152\"\u003eS-ADAPT-6\u003c\/a\u003e Smart Sensor Consolidator Box Adapter \u003c\/li\u003e\n\u003c\/ul\u003e\n\u003cspan class=\"\"\u003e\u003cstrong\u003eCarrying Case\u003c\/strong\u003e\u003cspan\u003e\u003c\/span\u003e\u003c\/span\u003e\n\u003cul\u003e\n\u003cli\u003e\n\u003ca href=\"https:\/\/shoponset.hoskin.ca\/products\/pelican-case?variant=31813055952\"\u003eCASE-PELICAN-1510\u003c\/a\u003e\u003cspan\u003e \u003c\/span\u003ePelican Case \u003c\/li\u003e\n\u003c\/ul\u003e\n\u003cspan class=\"\"\u003e\u003cstrong\u003eCompliance Certificates\u003c\/strong\u003e\u003cspan\u003e\u003c\/span\u003e\u003c\/span\u003e\n\u003cul\u003e\n\u003cli\u003eCOMPLIANCE CERT Compliance Certification \u003c\/li\u003e\n\u003c\/ul\u003e\n\u003cstrong\u003eMounting Accessories\u003c\/strong\u003e\n\u003cul\u003e\n\u003cli\u003e\n\u003ca href=\"https:\/\/shoponset.hoskin.ca\/products\/din-mounting-feet-kit?variant=31809875792\"\u003eA-H22-DINMOUNT-1\u003c\/a\u003e DIN Mounting Feet Kit\u003c\/li\u003e\n\u003cli\u003eA-H22-MOUNT-1 HOBO H22 Energy Logger Mount Feet Kit\u003c\/li\u003e\n\u003c\/ul\u003e\n\u003cstrong\u003eWind Sensor Adapters\u003c\/strong\u003e\n\u003cul\u003e\n\u003cli\u003e\n\u003ca href=\"https:\/\/shoponset.hoskin.ca\/products\/r-m-young-wind-monitor-aq-model-05305-adapter?variant=31861059024\"\u003eS-WCB-M003\u003c\/a\u003e R.M. Young Wind Monitor-AQ (model 05305) Adapter\u003c\/li\u003e\n\u003cli\u003e\n\u003ca href=\"S-WCC-M003%20\"\u003eS-WCC-M003 \u003c\/a\u003eR.M. Young Marine Wind Monitor (model 05106) Adapter\u003c\/li\u003e\n\u003cli\u003e\n\u003ca href=\"https:\/\/shoponset.hoskin.ca\/products\/r-m-young-wind-monitor-for-wind-alpine-models-05103-adapter?variant=31861107088\"\u003eS-WCE-M003\u003c\/a\u003e R.M. Young Wind Monitor for Wind\/Alpine (model 05103) Adapter\u003c\/li\u003e\n\u003c\/ul\u003e","published_at":"2017-03-07T15:49:00","created_at":"2017-03-07T15:49:24","vendor":"Onset","type":"Data Loggers","tags":["4-20mA","AC Current","AC\/DC Voltage","Air Velocity","Amp Hour (Ah)","Carbon Dioxide","Compressed Air Flow","DC Current","DC Voltage","Differential Pressure","Gauge Pressure","kW and kWh","Power Factor (PF)","Pulse","Relative Humidity","Temperature","Temperature\/RH","Volatile Organic Compounds","Volt-Amp Reactive","Volt-Amp Reactive Hour","Volt-Amps (VA)","Water Flow","Watt Hours (Wh)","Watts (W)","Wind Speed \u0026 Direction"],"price":66600,"price_min":66600,"price_max":66600,"price_varies":false,"compare_at_price":null,"compare_at_price_min":0,"compare_at_price_max":0,"compare_at_price_varies":true,"all_variant_ids":[42959171536,44630006071455],"variants":[{"id":42959171536,"product_id":8482706256,"product_handle":"hobo","title":"Default title","option1":"1+","option2":null,"option3":null,"sku":"H22-001","requires_shipping":true,"taxable":true,"featured_image":null,"image_id":null,"available":true,"name":"HOBO H22 Energy Data Logger - 1+","options":["1+"],"price":66600,"weight":435,"compare_at_price":null,"inventory_quantity":-2,"inventory_management":null,"inventory_policy":"deny","inventory_in_cart":0,"inventory_remaining":-2,"incoming":false,"next_incoming_date":null,"taxable":true,"barcode":"","qb_lookup":{"levels": {"1": {"id":42959171536,"price":66600},"10": {"id":44630006071455,"price":63270}},"qb_price_varies":true,"grid":"\u003ctable class='shappify_qb_grid'\u003e \u003cthead\u003e \u003ctr\u003e \u003cth\u003eQty\u003c\/th\u003e \u003cth\u003ePrice\u003c\/th\u003e \u003c\/tr\u003e \u003c\/thead\u003e \u003ctbody\u003e \u003ctr\u003e \u003ctd\u003eBuy 1\u003c\/td\u003e \u003ctd\u003e$666.00 ea\u003c\/td\u003e \u003c\/tr\u003e \u003ctr\u003e \u003ctd\u003eBuy 10\u003c\/td\u003e \u003ctd\u003e$632.70 ea\u003c\/td\u003e \u003c\/tr\u003e \u003c\/tbody\u003e \u003c\/table\u003e\u003cstyle\u003etable.shappify_qb_grid{ width:100%;} table.shappify_qb_grid offers thead, table.shappify_qb_grid thead tr, table.shappify_qb_grid thead th, table.shappify_qb_grid thead td{background:#D6D6D6;color:#000000;font-weight:bold;} table.shappify_qb_grid tbody tr:nth-child(odd) {background-color:#FFFFFF;} table.shappify_qb_grid tbody tr:nth-child(even) {background-color:#EFEFEF;} table.shappify_qb_grid tbody {color:#000000;} table.shappify_qb_grid, table.shappify_qb_grid th, table.shappify_qb_grid td { text-align:left;padding:5px;border: 1px solid #CCCCCC;border-collapse: collapse;} table.shappify_qb_grid {margin: 0px;}\u003c\/style\u003e"}}],"available":true,"images":["\/\/shoponset.hoskin.ca\/cdn\/shop\/products\/HOBO-Energy-Logger-H22-001_d73c15a7-6d16-4454-81a6-5cab0ec49967.jpg?v=1488930659","\/\/shoponset.hoskin.ca\/cdn\/shop\/products\/HOBO-Energy-Logger-H22-001-scaled_0_4155301d-e37a-4f20-a896-e85efa4f935d.jpg?v=1488930667"],"featured_image":"\/\/shoponset.hoskin.ca\/cdn\/shop\/products\/HOBO-Energy-Logger-H22-001_d73c15a7-6d16-4454-81a6-5cab0ec49967.jpg?v=1488930659","options":["Title"],"url":"\/products\/hobo","hasQB":true}